Exhaust Fans: Centrifugal Upblast
The Centrifugal Upblast Exhaust Fans can be used from storage rooms to hood exhaustion to smoke control.
The centrifugal upblast fan is the industry standard for effluent air extraction. Originally for the commercial kitchen industry, these fans have backward inclined blades that utilize centrifugal properties to remove the grease and particulates from the air stream while preventing excessive build-up on the blades. The wind band of these units is designed to eject the air upward into the atmosphere while allowing the particulates to run down the inside of the wind band and collect in the 1-quart collection cup attached to the fan. They come complete with hinge kits that allow for easy cleaning without damaging the fan or surrounding roof area and an external service disconnect for ease of maintenance and safety.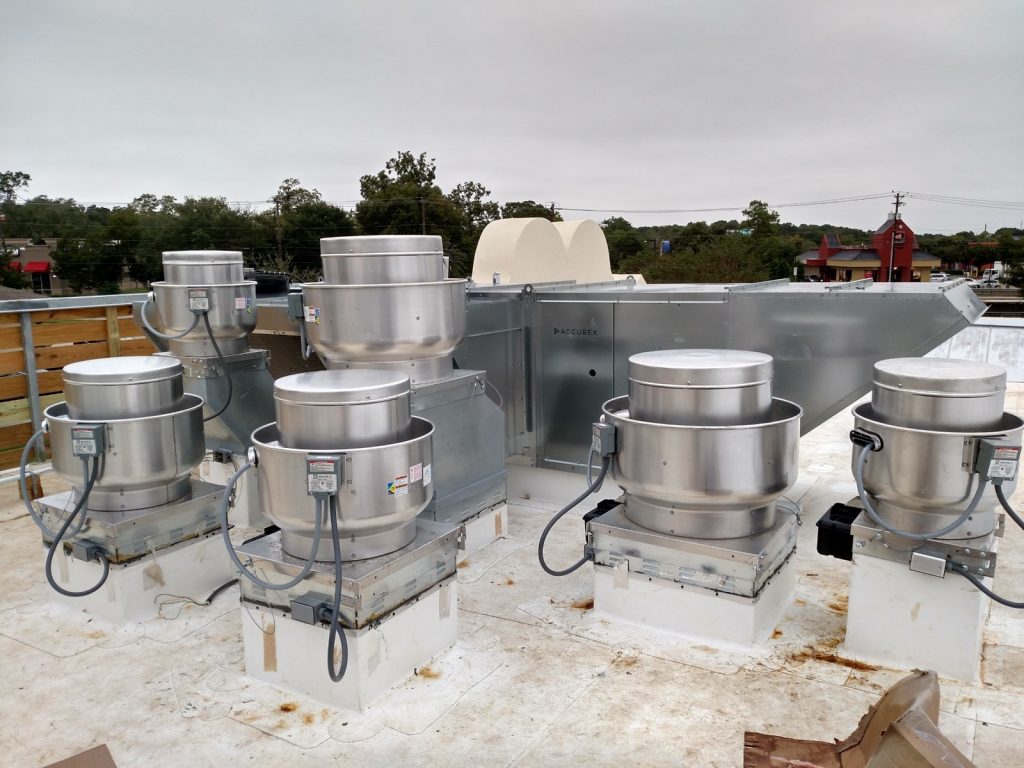 Commercial kitchens – Any commercial kitchen with a vent hood requires an exhaust fan to remove the smoke and grease from the air stream. Centrifugal upblast fans and the most economical solution while still providing excellent performance.
Fume hoods – Much like the Type I, hoods the Type II or Fume Hoods also require an exhaust fan to pull the air through the hood and out of the building.
Direct venting – Some equipment requires direct venting such as ovens, smoke pits, soldering tables, and other specialty pieces of equipment. Centrifugal upblast fans are an economical, lightweight, and easy to install solution to direct venting needs.
Without a functioning ventilation system, a restaurant cannot operate, and that ventilation system depends on a reliable exhaust fan. The centrifugal upblast fan is not only economical, and reliable, but also lightweight, easy to install, and comes in a vast array of sizes, voltages, and air flow rates.
With decades of experience designing, installing, and servicing commercial ventilation system, our knowledgeable staff can help you choose the right product for your application
Looking for a reliable, environment-friendly, and energy-efficient Exhaust Fans Centrifugal Upblast? Give Accuvent a call, and we'll help you.