Make Up Air Fan: Modular Packaged Unit
Our Modular Packaged Units can be optimized for higher efficiency and greater performance.
For decades, the typical kitchen hood system returned the exhausted air through an un-tempered make-up air system. The Modular Package Unit takes the existing make-up air design and improves it with the addition of tempering via a single pass DX coil. This coil is capable of lowering the incoming air temperature by up to 15 degrees before introducing it into your kitchen along the cook line.
*The Modular Package Unit is not designed to cool the kitchen.
100% of Make-Up Air is exhausted out by design through the vent hood.*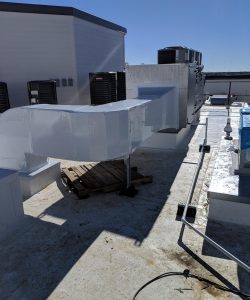 The Modular Package Unit is a supplementary addition to the make-up air fan that reduces the heat load introduced into the kitchen by the make-up air system. This can reduce the overall tonnage needed by the HVAC system to cool the kitchen.
Modular packaged units have many applications. They include but not limited to:
Restaurants – All restaurants with a kitchen hood system will benefit from the additional cooling, and dehumidifying achieved by the Modular Package Units.
 Commercial Kitchens –Commercial kitchens already generate hundreds of thousands of BTU's. The Modular Package Units prevents your make-up air system from adding to those BTU's.
Factories –Modular Package Units can aid the HVAC system in keeping the space cool and conditioned when exhausting large amounts of air from the building.
Expo Cooking – When the cookline is on the edge of or mixing with the dining room, the Modular Package Unit can keep your customers comfortable by tempering the hot, humid air a traditional make-up air unit returns.
Modular Package Units are not only efficient and cost effective for tempering make-up air systems, but they are also easy to install into a new build-out or even retrofit into an existing system. Their self contained modular design means they can replace a traditional rooftop filtered unit without any need for additional roof penetrations.
These units are also available as a split system when rooftop space is unavailable, or when upgrading an existing inline filtered make-up air fan. The R-410A condensing units have a small footprint so they can easily be tucked away from the customers view and quiet enough to not disrupt the ambiance of your establishment.
Why You Should Choose Accuvent For Modular Packaged Unit Solutions
Many factors go into the selection of a Modular Package Unit over a traditional Rooftop Filtered unit. Our team of experienced designers and installers can help you evaluate these factors and make the best decision for your situation.
Looking for a reliable, environment-friendly, and energy-efficient Make-Up Air Fan Modular Packaged Unit? Give Accuvent a call, and we'll help you.