Most Stylish of all the kitchen hoods
The Island Hood is one of the most eye catching additions that you can have in your kitchen.
Island hoods are specialized versions of Canopy hoods with a finish back and polished corners. These hoods look great both in the kitchen and out in the dining room. Like the Canopy hoods they come in two types: a Type I, characterized by its grease filters, plenum, and integrated grease drain; these hoods are designed for standard cooking and grease application. And Type II, which is designed to cover steam, vapor, and other non-grease applications such as dish machines, some ovens, steam kettles, etc.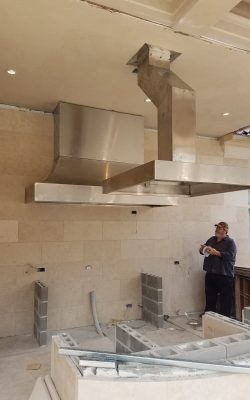 Island hoods have bridged the gap between the dining room and kitchen being used primarily as an exposition hood to display the cooking process to the customer. They are also especially effective at exhausting fumes above industrial equipment on a warehouse production line. Island hoods are essential for a range of businesses including:
Commercial restaurants – Used where an open kitchen concept leaves the back of the vent hood visible to the customer.
Factories – Used to control the fumes, sometimes combustible, produced by different pieces of equipment ensuring a safe, healthy working environment.
Manufacturing industries – Whether food manufacturing or just general goods, Island hoods are used over a variety of equipment used in the manufacturing process when there are no walls to mount the hood to.
Looking for a reliable, environment-friendly, and energy-efficient Island Hood? Give Accuvent a call, and we'll help you.