Exhaust Fans: Inline Exhaust
Our Inline Exhaust System is one of the best that you can find in this area.
Not all exhaust fans can sit on the roof, for those situations there is the Inline Exhaust fan. The inline exhaust fan installs in the duct system before it terminates. These units can be installed in the ceiling space above the kitchen, in the overhead space of a parking garage, office building, or just about anywhere. Available in a variety of sizes and airflow rates, including a low profile option for limited space constraints.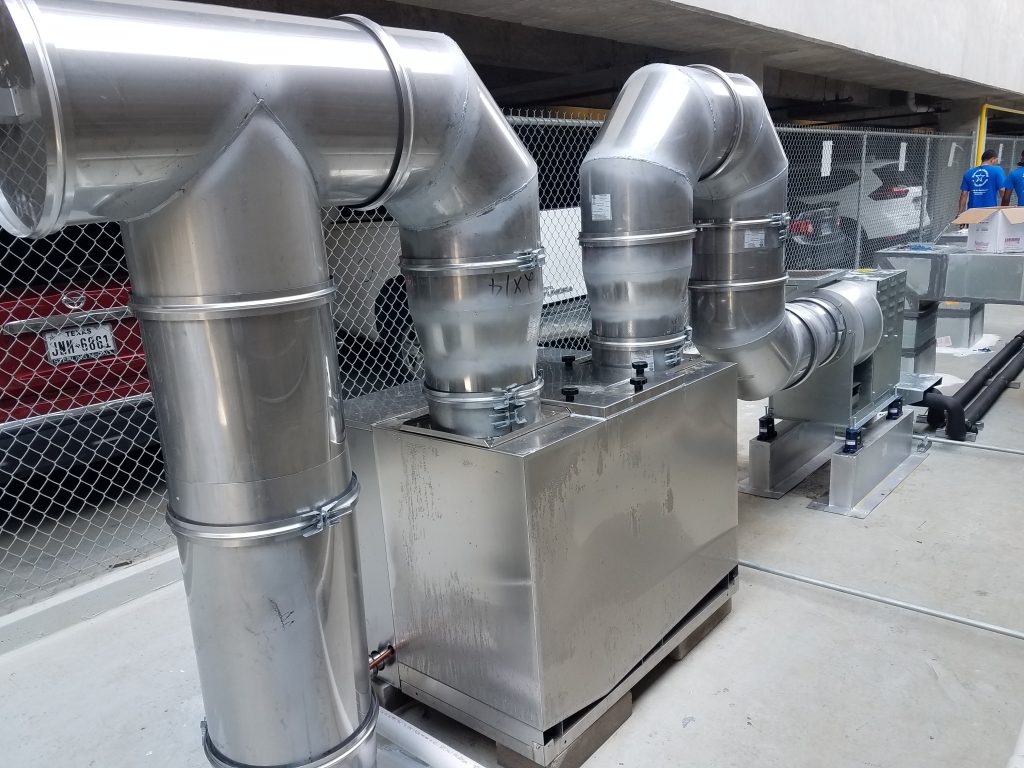 Inline exhaust fans are the perfect solution for a large variety of facilities including, but not limited to:
Restaurants – Commercial restaurants that reside in the lower floor of high-rise buildings or other buildings where direct access to the roof is not possible.
Historic Building – Very often the roof of a historic building cannot be modified. This makes installing an inline fan the perfect exhaust solution.
Supplemental Exhaust – When exhaust runs become hundreds of feet long, it becomes necessary to add an inline "Booster" fan to aid the primary exhaust fan.
There are many benefits to the inline exhaust fan. Ranging from a low profile design to high static pressure capabilities, the inline exhaust fan has many features and benefits. These units come 100% sealed with an integral grease drain and a 1-quart grease box to capture all of the particulates. They are installed using vibration isolators to prevent transmitting noise and vibration to the floor above, and high-temperature grease rated access doors for regular cleaning and maintenance.
The market is flooded with several types and sizes of inline exhaust fans. Commercial restaurant owners must choose the best system. That said, one should contact our dedicated team for outstanding inline exhaust fan solutions.
Looking for a reliable, environment-friendly, and energy-efficient Exhaust Fans Inline Exhaust? Give Accuvent a call, and we'll help you.